A flisni Shqip? Dëshironi të lexoni Biblën në gjuhën tuaj?
Ky aplikacion mund të ju ndihmojë! Ajo përmban Biblën e Shenjtë në gjuhën Shqipe, falas në telefonin tuaj!
We offer you the best app for reading the Bible in Albanian, the official language in Albania and Kosovo. Also recognized as a minority language in Macedonia, Italy, Serbia, Montenegro, Croatia and Romania.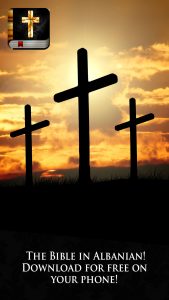 More than 6 million speakers can now access the Bible in Albanian language.
Feel closer to God by reading the Bible every day in your cell! The Bible contains the eternal Word of God. It's the inspired and unique Word of God.
This amazing book is a guide of life, a refuge in trouble, a treasure God gave us for the journey of life.
Download it on your phone!
https://play.google.com/store/apps/details?id=albanian.bible